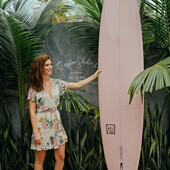 Maria Paulsson Rönnbäck
Sales & Marketing Manager – Marketing & Content
Highly driven entrepreneur who is devoted to making the world a better place.

For me, working at Sunshinestores is the perfect combination of passion, fun and getting to grow as an individual.

3 things that excites me:

I love people! And I love my colleagues at Sunshinestories. A key motivation for me is overcoming challenges with my team and creating success stories together. As a manager at a fast-paced start-up, I have the privilege of doing so on a daily basis.

I love change! Hence, I love innovation. I can't wait to see what the future holds and how technology will change everything and improve living standards across the globe. My greatest inspiration is my grandad who learned how to develop math computer games at the age of 65.

I love exploring & adventures! Whether it is a new yoga pose, a surf break at the Sri Lankan coastline, or climbing in the Swedish mountains; traveling and mediation are my ways of opening up my heart and mind. I learned to read when early on, and my favorite place on earth was the library.

Specialties: team leadership, growth, international marketing, product innovation, product marketing.