Guest Relations
·
Sunshinestories, Ahangama
Social Host, Sunshinestories
Being a social host at Sunshinestories is not like any other job. Do you absolutely love waking up early to take part in a yoga class or spending the morning surfing in the ocean? Do you love hanging out with people for the sole reason of promoting fun and adventure? If yes, then this is your dream job.

Within this position you are responsible for the guest experience when they are not busy with surf lessons or their yoga practice. You will need to have a big passion for people and engage with the group every week and make them feel welcome and part of the experience. You won't have time to sit back and relax whilst telling other people what to do or allow the guests to get bored.

There won't be a big difference between work and pleasure and there won't be normal working hours. You will need to love being around people and enjoy sharing your time with them! You need to continuously find news ways to incorporate fun for the guests, this can be playing a card game, doing some exercise, taking them on a walk into town, a bike ride - anything and everything that makes the experience for the guests fun and interactive. You will understand how putting some music on first thing in the morning during breakfast can change the mindset of a tired guest for the rest of the day.

You will be social media savvy and will document your day to post daily Instastories on the Sunshinestories account.

This is a work-stay opertunity on a volunteer basis with a small salary and not a gig if you're expecting the big bucks salary. However if you want to share your passion for yoga, surf every day and be part of an amazing little family sharing a good life in the sunshine for a few months, it's perfect.
Especially it's for you who want to learn how to surf since you can tag along on the surf lessons on a daily basis. Are you already a keen surfer? Even better, use one of our speciality surfboards (longboards/shortboards) and with the help of our ISA certified coaches you can improve with video analysis sessions and in depth coaching methods.
REQUIREMENTS
You have a big passion for being social around people for an extended time and hosting dinners, excursions etc with ease
Your own computer to assist the General Manager with daily email inquiries and bookings.
Passion for a lifestyle filled with surf, yoga and adventuring about
Excellent social skills for diplomatically handling customers expectations, reviews and complaints
Ability to efficiently serve the customers and promote an unforgettable experience at the retreat
A strong Social Media presence with a eye for detail
Strong written and oral communication skills for managing the social host admin
The ability to cope under pressure and always deliver a good customer experience
Team working skills
Strong planning and organizational skills to run a streamlined operation in the front desk
The ability to work independently and confidently to make your own decisions
Problem-solving ability to resolve issues as they arise swiftly and comfortably
Good at organizing and delegating work and directing problems to the right persons in the organization
Good with managing paper work, accounting & bills
You can stay a minimum of 3 months.
THE APPLICATION PROCESS
Please make your application via this career site. We hire social hosts every 3-5 months, and usually hire a few months before the date period, once we start the hiring process we will be in touch with you with the dates.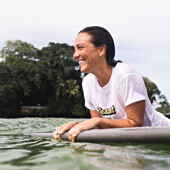 Contact
Adri
Front Desk Manager – Guest Relations
Sunshinestories, Ahangama
Why work with us?
Surf

Sri Lanka is one of the worlds top surf destinations, and we're a team of dedicated wave lovers always up for a dawn session. You'll have access to boards and guiding to the best breaks along the coast. How much you want to surf is up to you, we promote everyone surfing at least once per day!

Yoga

Stretch your legs with our certified yoga teachers. Having a place to calm your mind after a busy work day can be essential to wellbeing. Here yoga is a natural part of life.

Community

Surfer, artists, creators, foodies. Working with us, or staying with us as guest. You will meet with and interact with a number of awesome people during your employment with us. We love to see how former employers continue working together around the globe.

Practicalities

Moving to a foreign country can be challenging, we know. That's why we help you out with things like housing, visa arrangements and transportation to get you kick started with your life in Sri Lanka.
Work Place and Culture
Working at Sunshinestories is an adventure! We're a fast paced start up in an South East Asian melting pot.
But no need to worry if you never been here before. We are a community that welcomes everyone with open arms like they are our family.
Typically we try to get together once a week for a family surf sessions out at the reef or some sunset downers at the beach.
We'll promise you that a work stay experience at Sunshinesories will include experiences beyond the usual, from getting blessed by our local monk in the yoga shala, to epic surf sessions at secret spots.
About Sunshinestories
Sunshinestories is a passion driven lifestyle business in Sri Lanka that's open year round. It has two different brands under the same company - Sunshinestories Retreat in Ahangama and Ceylon Sliders in Weligama.
Guest Relations
·
Sunshinestories, Ahangama
Social Host, Sunshinestories
Loading application form
Already working at Sunshinestories?
Let's recruit together and find your next colleague.