Surf
·
Sunshinestories, Ahangama
Head Surf Coach, Sunshinestories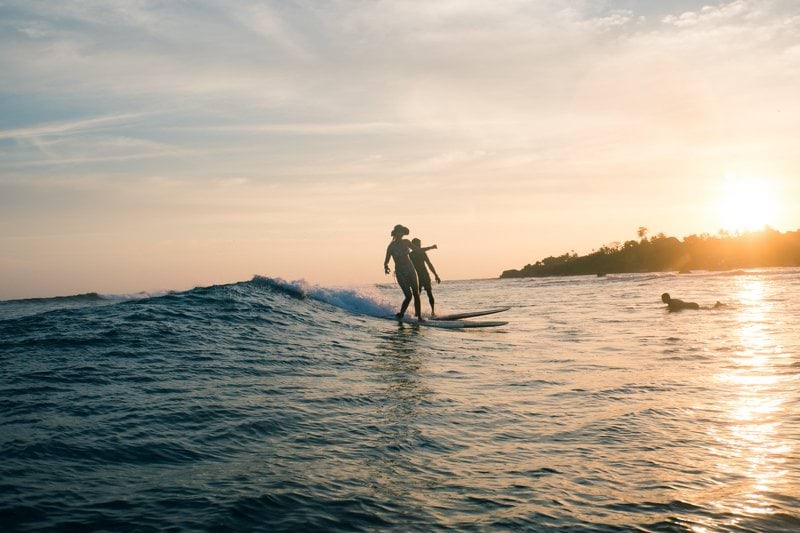 We're searching for an experienced Head Surf Coach to come join our team at Sunshinestories! 
As a Head Surf Coach you will lead the surf department of Sunshinestories, coach and inspire a team of 3 other coaches as well as daily being hands on coaching, conducting theories and getting your hands and feet wet in the role as a surf coach.
The mission is to place Sunshinestories as a premier surf retreat worldwide providing a great guest experience and a one of a kind level of surf coaching incorporating progression and fun at the same time.
We are expecting you to be energetic and result driven, be a good team player and leader and always put the company's vision and ethos first. You must be able to lead, coach, inspire, support and motivate your team, and always seeking to improve best practice. At times the workload will be big, the pressure high and it will be stressful - you need to be the bigger person for the guests, your team as well as all employees and handle critical situations calmly and professional showing that you are in control. Your long experience of surfing and surf coaching is spreading stoke to our guests and to your team of surf coaches who you'll help to train and progress in their own surfing as well as their teaching methods.
We're a small retreat and this is not a laid back management role. You need to get your hands and feet wet as you will be coaching your own group of up to 5 students through a week of surfing; daily in-water surf lessons, video analysis and surf theory classes while you are leading the other coaches at the same time.
As a surfer you are living and breathing it, you're an ocean lover and your lifestyle allows you to spend most of your time in and around the ocean which is what you love the most. You are continuously developing your own surfing and can perform advanced manoeuvres on various types of surfboards, both long and short. You think it's just as fun to teach beginners and intermediates, shortboarders and longboarders how to surf and since the majority of the persons you teach are beginners this is where you thrive. You are interested in the technical aspects of surfing as well as the philosophy and lifestyle.
You are a great communicator and know how to explain the technical aspects of surfing, ranging from someone that has never surfed before through to experienced surfers, in a fun and interactive way. You are not afraid to stand in front of people and teach surfing, not only at the ocean but also in the classroom as you will lead surf theory classes daily about different topics. You are a responsible surfer and take great precautions to keep all the students at Sunshinestories safe, including those taught by the surf coaches that work under your command.
Organisational and computer skills are important as you'll be doing video editing and video analysis sessions daily with your group. This is where we break down the more technical aspects of surfing and are able to give valuable advise to the students. Moreso, you will also need to work form the computer to reply to emails and access booking systems and plan ahead for the coming weeks and months. You will also handle bookings for surf lessons sold and marketed via Ceylon Sliders and allocate the coaches accordingly to cover those lessons.
This is a work-stay opertunity on a volunteer basis with a small salary and not a gig if you're expecting the big bucks salary. However if you want to share your passion for yoga, surf every day and be part of an amazing little family sharing a good life in the sunshine for a few months, it's perfect.
REQUIREMENTS 
Fluent in English speaking and writing
ISA or similar surf teaching certificate incl. lifeguard training
Worked with surf coaching for a minimum of 5 years and preferably longer
Can stay for minimum 5 months
A good surfer on shortboard and longboard
Leadership skills and experience in dealing with staff
Computer skills (we'll give you training in our systems, but a general skill level is important)
THE APPLICATION PROCESS
Please make your application via this career site. We hire surf coaches every 3-5 months, and usually hire a few months before the date period, once we start the hiring process we will be in touch with you with the dates. 
Sunshinestories, Ahangama
Why work with us?
Surf

Sri Lanka is one of the worlds top surf destinations, and we're a team of dedicated wave lovers always up for a dawn session. You'll have access to boards and guiding to the best breaks along the coast. How much you want to surf is up to you, we promote everyone surfing at least once per day!

Yoga

Stretch your legs with our certified yoga teachers. Having a place to calm your mind after a busy work day can be essential to wellbeing. Here yoga is a natural part of life.

Community

Surfer, artists, creators, foodies. Working with us, or staying with us as guest. You will meet with and interact with a number of awesome people during your employment with us. We love to see how former employers continue working together around the globe.

Practicalities

Moving to a foreign country can be challenging, we know. That's why we help you out with things like housing, visa arrangements and transportation to get you kick started with your life in Sri Lanka.
Work Place and Culture
Working at Sunshinestories is an adventure! We're a fast paced start up in an South East Asian melting pot.
But no need to worry if you never been here before. We are a community that welcomes everyone with open arms like they are our family.
Typically we try to get together once a week for a family surf sessions out at the reef or some sunset downers at the beach.
We'll promise you that a work stay experience at Sunshinesories will include experiences beyond the usual, from getting blessed by our local monk in the yoga shala, to epic surf sessions at secret spots.
About Sunshinestories
Sunshinestories is a passion driven lifestyle business in Sri Lanka that's open year round. It has two different brands under the same company - Sunshinestories Retreat in Ahangama and Ceylon Sliders in Weligama.
Surf
·
Sunshinestories, Ahangama
Head Surf Coach, Sunshinestories
Loading application form
Already working at Sunshinestories?
Let's recruit together and find your next colleague.